RPA examples to automate business processes
Check out this collection of applications for process automation and RPA examplesof successful companies of all sizes. This collection of use cases includes applications to sales, accounting and finance, document processing, software automation (CRM, accounting system, ERP, etc.), supply chain, and human resources. 
There is no better way to learn more about this technology than to see how other companies, departments and teams have managed to eliminate repetitive tasks. 



Allows companies to instantly implement any of these Bots by making slight custom changes.
We hope it will be of value, do not hesitate to contact our team or request our Ebooks for specific use cases by industry.
RPA Examples: Finance and Accounting
RPA Examples: Various administrative (back-office) operations require the processing of document data that comes in different formats and originates from various sources. Whether they are structured or unstructured in nature, these documents can take hours to process manually.
Recognizes data using a character recognition (OCR) engine

Extract the relevant data

Populate the relevant systems/spreadsheets with the extracted data
RPA software automating:
RPA Examples: One of the most tedious parts of accounting operations is data processing. Manually generating sales receipts and invoices, sending emails and creating reports can limit the overall productivity and efficiency of teams. In this case, automation can be useful.
Log in to system accounts using user credentials

Import invoices into new rows of Excel spreadsheets

Generate sales receipts in system for updated MS Excel spreadsheets

Generate MS Excel rows for new system payments

Create rows in Excel for system expenses

Update mail service subscriber lists to include new system customers

Send email notifications for new invoices and system payments
RPA software automating:
RPA Examples: Legacy systems are computer systems that organizations continue to use even after they have become obsolete because they contain key business data. Over time, these systems are difficult to maintain due to non-compatible components and difficulty in upgrading and adding features. Therefore, they end up being ineffective in meeting the needs of employees and customers. However, even legacy systems can integrate automation to reduce time-consuming manual activities. Bots working on the surface of applications can automate the tasks of legacy systems.
Run automations on common legacy environments (email system, CRM, financial system)

Transfer data from legacy systems to external and on-premises sources (spreadsheets, cloud, or other systems)

Importing data from external sources into legacy systems

Updating data stored on legacy systems

Access legacy systems using user credentials

Create reports based on tasks performed on legacy systems

Send alerts on predefined activities executed on legacy systems
RPA software automating: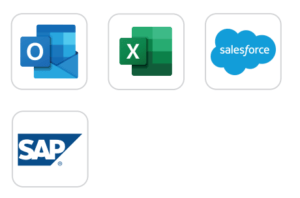 RPA Examples:

Supply chain
In many business units, provisioning is a standard but time-consuming process that involves browsing many websites, sifting through information, checking product availability, and placing orders across multiple accounts. Scheduling supply deliveries is a time-consuming task that involves clicking through many screens on legacy websites, a procedure that bots are well suited for.
Browse to apply filters and check the availability of the required products

Sign up for multiple accounts and place orders

Place orders on relevant sources selected by pre-set criteria

Create a list of orders placed

Check shipping times and schedule delivery of orders

Email order fulfillment status updates to stakeholders
RPA software automating:
Buyers typically spend 2-3 hours a week searching multiple websites for the best products at the best prices. This key provisioning task is extremely repetitive, and extracting the relevant data and entering it into a spreadsheet requires significant manual effort. Also, these spreadsheets need to be updated frequently.
Browse a predefined list of websites to find relevant products

Analyze the prices of the same products on various websites

Detect the best prices for the list of predefined items

Extract price values ​​from relevant websites

Enter the product data in the Excel spreadsheet or in the corresponding corporate system

Update pricing information regularly

Create reports on the best revealed prices

Email up-to-date pricing reports to interested parties
RPA software automating:
RPA Examples:

Human Resources